Christmas is around the corner, and with fairy lights hanging on the biggest department stores and chaotic rushes to find the best gifts, this magical winter season also comes with hearing the same festive songs blasting into the streets of Seoul just about everywhere you go.
Whether it's for some background music in a Christmas party or maybe just to listen year-round, here are my favorite festive songs compiled into the ultimate Christmas playlist.
1. "Baby It's Cold Outside" – Idina Menzel & Michael Bublé
Idina Menzel and Michael Bublé tackle a Christmas classic and changes a few lyrics to give us a family-friendly version of the iconic duet without the sexual innuendos and references to alcohol. This song is a perfect song to attempt with your lover or your friend or just to listen to in order to get into the Christmas spirit.
2. "Winter Wonderland/Don't Worry Be Happy" – Pentatonix ft. Tori Kelly
This popular a capella group teamed up with Tori Kelly to bring us a light-hearted mash up of two songs. The perfect blend of beats, harmony, and Tori Kelly's clear voice will definitely put you in a festive mood. This song is from their popular Christmas album called That's Christmas To Me which is definitely worth listening to for more cheery holiday music.  
3. "My Only Wish (This Year) – Britney Spears
With cheerful instrumentation, Britney Spears sings innocently, asking Santa for her one true love for Christmas. Although it never garnered the popularity it deserved in the US, this song did surprisingly well in South Korea so don't be too surprised to hear a familiar melody when walking down the streets of Hongdae or Myeongdong. The sweet lyrics and bouncy melody will be sure to lift your mood and have you singing along.
4. "Santa Tell Me" – Ariana Grande
This song goes against the usual theme of asking Santa for love. Instead, Ariana Grande asks Santa Claus if her new man will stay around even after Christmas is gone and the mistletoe is taken down. Lyrics like "I've been down this road before/ Fell in love on Christmas night/ But on New Year's Day I woke up and he wasn't by my side" paired with Ariana's powerful voice has you listening to this song long after December has passed.
5. "All I Want for Christmas Is You" – Mariah Carey

Although this song is over twenty years old, its iconic status has solidified its place in every Christmas playlist as the season rolls around. This uptempo love song with bell chimes and cheerful background singers has sold more than fifteen million copies worldwide; and it'll never fail to get you into the Christmas spirit.
6. "Merry Xmas" – Fetty Wap ft. Monty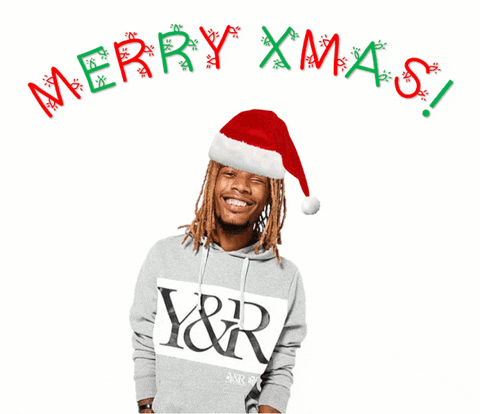 Though definitely not a classic, this song will appeal to those who have enjoyed Fetty Wap's music in the past. Reminiscent of his other songs such as "Trap Queen" and "My Way", Fetty Wap sings "All I Want for Christmas Is You" and raps about his money and squad. Perfect for hip hop lovers who still want to get into the holiday mood.
---
Image Sources:
http://www.truthrevolt.org/sites/default/files/styles/content_full_width/public/field/image/articles/christmas.jpg?itok=XpWv0nzj
http://i.huffpost.com/gen/2298360/images/o-MENZEL-BUBLE-COVER-facebook.jpg
http://cdn.hitfix.com/photos/5826104/pentatonix-thats-christmas-to-me.jpg
http://2.bp.blogspot.com/-lowsgdIu0bw/Um2AcDi4lXI/AAAAAAAACcc/URSLPF5mVSI/s1600/6596130727_cb5ffb4b29_o.png
https://i.ytimg.com/vi/jl2TzzIJblc/maxresdefault.jpg
http://www.etonline.com/music/2014/11/24116660/merry_christmas.jpg
https://media.giphy.com/media/26tPr8J8Dxs1FildC/giphy.gif